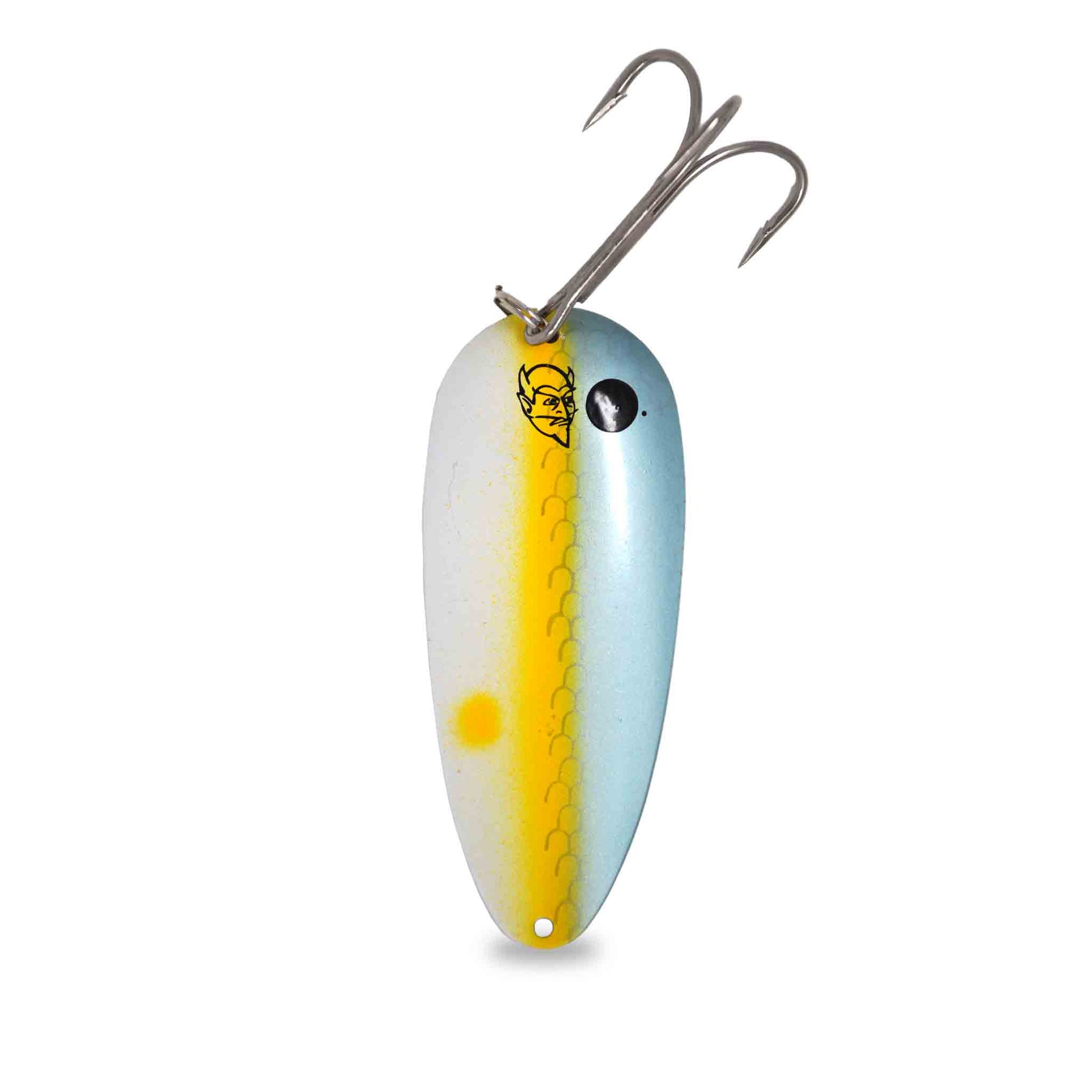 Eppinger Huskie Junior 2oz Spoon
In stock
Pickup available at EZOKO Pike & Musky shop
Usually ready in 4 hours
Eppinger Huskie Junior 2oz Spoon
Red/White Stripe
EZOKO Pike & Musky shop
Pickup available, usually ready in 4 hours
1025 Rue Notre-Dame
Montréal QC H8S 2C3
Canada
+15146133870
The Eppinger Huskie Junior 2oz Spoon is a reliable fishing lure that belongs to the iconic Dardevle family, first invented by Lou Eppinger in 1906. This specific lure weighs 2 oz and measures 4 1/2" in length and 2" in width, maintaining a similar design to the original Dardevle but with size attributes that cater to specific fishing conditions​1​.
Its broad range of colors ensures that there's a Huskie Junior Devle suitable for catching virtually all types of fish in varying water and light conditions​1​.
As with other members of the Dardevle family, the Huskie Junior Devle is celebrated for its unique strike-triggering action that is favored by knowledgeable fishermen across the globe. This makes the Huskie Junior Devle not just a worthy addition to any tackle box, but a must-have.
The "Huskie Junior 2oz Spoon" - The Must-Have Pike & Musky Lure
Lure weight: 2.0 oz
Lure Length: 4.5 in.
Unbeatable Action:
Fluttering swim action that fish just can't ignore
Use a straight retrieve or a swim and pause to make it dance in the water
Sometimes you just can't beat those "old school" tactics
The Huskie Junior 2oz Spoon is a longtime favorite among pike and musky fishermen. Its unique fluttering swim action is irresistible to these powerful fish, making it an essential part of any angler's tackle box. Whether you prefer a straight retrieve or want to make it dance in the water with a swim and pause technique, this lure delivers results.
With its 2 oz weight and 4.5" length, the Huskie Junior 2oz Spoon is optimized for targeting muskies and pikes specifically. Its design has been refined over the years to ensure maximum effectiveness in triggering strikes from these aggressive predators.
Choose from a variety of colors to match your fishing conditions and increase your chances of success. The Huskie Junior 2oz Spoon is designed to excel in all types of water and light conditions, giving you versatility on every fishing trip.
Get Your Huskie Junior 2oz Spoon Today!
Don't miss out on this must-have lure for serious musky and pike anglers. Upgrade your tackle box with the reliable and effective Huskie Junior 2oz Spoon from Eppinger's Dardevle family. Catch trophy fish, experience the thrill of the strike, and add another accomplishment to your fishing adventures.
...Read More >
Lure length: 4.5 in.
Lure Weigth: 2.0 oz
});